part 2 of 4 on seed catalogs
The year has begun with a series of slate-gray mornings and frosty nights. Even though the winter solstice is behind us, I still feel a bit boxed in by these short days, and a familiar sense of restlessness that comes from not spending enough time in my garden. As I gaze out at my streetlight-lit garden in the eventide, I decide that the only antidote is an armchair getaway. In a time like this, to garden catalogically has to suffice.
Cracking the spine on a newly arrived seed catalog provides nearly as much anticipation as a newly unwrapped Christmas book (and I commend to you Spokane writer Jess Walter's sparkling novel Beautiful Ruins, by the way).
In my last post on this year's crop of catalogs, I offered a glimpse into the bioregional offerings of Territorial Seeds. This time I'll range a bit farther afield, to Missouri, California, and Japan.
Pages Sprout History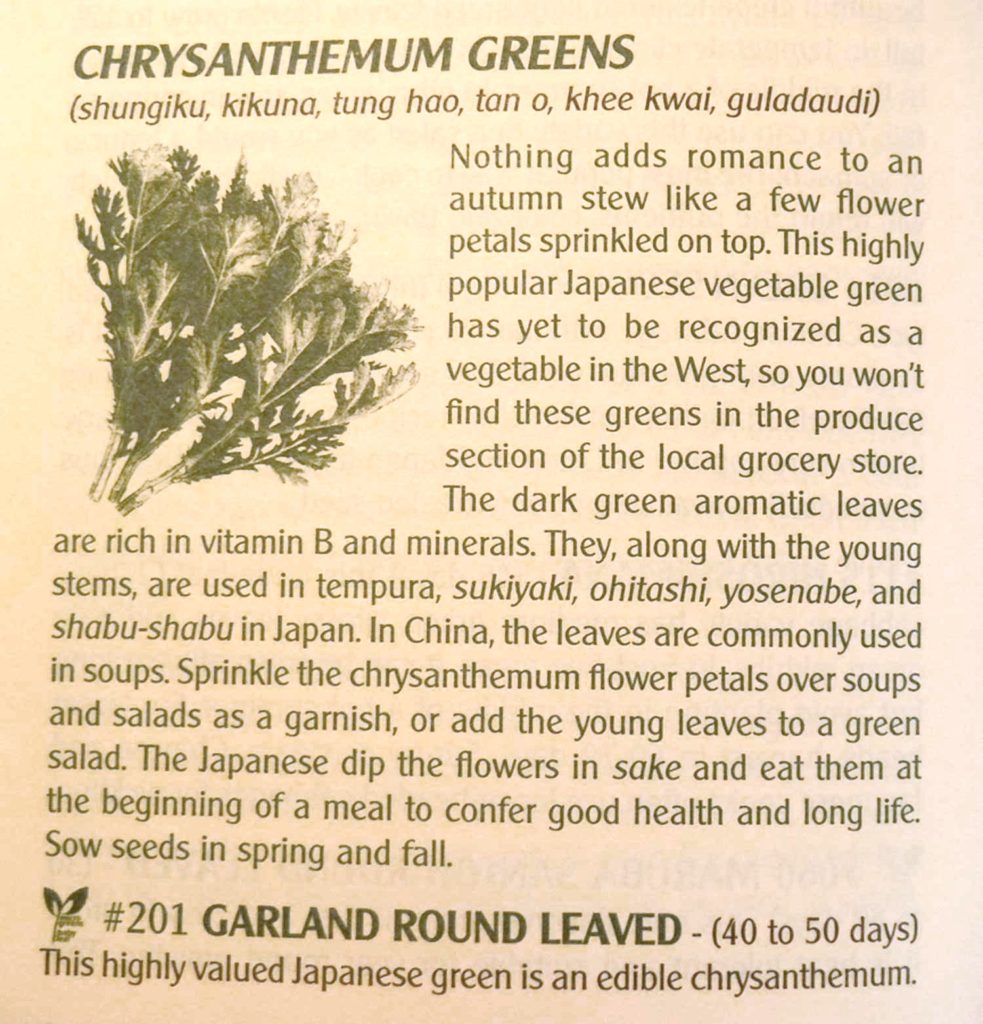 Wait, Japan? Since that's many acres beyond afield, let's start with Kitazawa Seed Company, which offers 50 pages of vegetables that almost all fit perfectly into the plantings of a cool-season gardener.
With a catalog that is certainly the least colorful of its brethren, on cream paper with deep-forest green illustrations and type, Oakland, California-based Kitazawa specializes in Asian vegetable seeds. Its design is purposeful, an homage to the company's founder, Gijiu Kitazawa, who began the firm in 1917 and, says a brief company history, sold his seeds "in the familiar manila packets with green ink that we use today."
History provides a sad but also hopeful element to the 96-year-old Kitazawa company story, told briefly in the catalog. The founder created a thriving business selling seeds to Japanese-American farmers in California and Oregon, but when World War II shattered American psyches with the bombing of Pearl Harbor, it fell apart. Japanese immigrants and Japanese-Americans living all along the West Coast were forcibly uprooted from their homes and relocated to internment camps to guard against the unproven idea that they would collaborate with our enemies in the war.
This historical aspect resonates with me, as I had the honor to work extensively with the Bainbridge Island author Mary Woodward and be her editor on a book about this situation, In Defense of Our Neighbors. I urge people to learn more about this shameful stripping of civil liberties from fellow citizens, to preserve the memory and keep it from ever happening again.
In many cases, people who were incarcerated in the camps lost everything—their homes, businesses, and personal possessions. But some went back and started over after the war, including the descendants of a local nurseryman, whose Harui family rejuvenated his Bainbridge Gardens, and Mr. Kitazawa.
Now to Recent Disasters
While the catalog proudly states that the company is nearly 100 years old, it certainly does not rest on its laurels, acknowledging it simply on a history page in the back of the book. Mostly, they want to entice you to buy their unique seeds.
Well, it is fascinating to delve into the stories and history both far and near, but my intention is to rave about the many treats that await gardeners who purchase seeds from this fine company. So chotto matte kudasai, wait just a minute, and let me share a few of my Asian favorites, and commend to you the website where you can order your own catalog for further pursuit.
Dento yasai
Many of Kitazawa's offerings are heirloom seeds, known as dento yasai, or traditional varieties of Japan. That fact caused me to seek and appreciate their guidance when I wrote my book Edible Heirlooms, and I continue to grow their varieties featured in that book:
Kalian, a tender Chinese kale, offers up mild flower buds and pale green leaves on succulent stalks.
Mizuna provides a feathery Medusa-head of spiky serrated leaves that pale almost to white at their base. The tangy green will spark up many a salad, but is only mildly hot, so it can be featured as a main ingredient in a simple salad if you prefer.
Pak Choi, also known as Chinese cabbage, comes in green- or white-stem types, and I've tried a half-dozen of them but prefer Tatsoi, which reliably produces a beautiful rosette of deep green, spoon-shaped leaves that are succulent and crunchy in a stir-fry.
But how to choose my favorite mustard green?
The catalog offering runs to three pages, with a rainbow of green, golden, red, scarlet and purple choices. I will share the recommendation of my friend and gardening mentor Carl Elliott: Green-in-the-Snow. A variety called Serifon offers large, serrated leaves that will fire up your tongue with a mustardy tingle. A handful will nicely spice up a dish of sautéed greens.
My favorite, though, has to be Miike Giant, a mild but pungent broad-leaf mustard with reddish veins and a red blush around the gentle leaf margins. I have yet to try this in pickling, which is its most common use in Japan, but I love it in salads.
I would be remiss if I didn't mention Kitazawa's "Chef Specialty Garden" collections. These are 12 combinations of their offerings that provide seven seed packets in a theme.
If you haven't grown Asian vegetables before, try Asian Salad Garden or Japanese Heirloom Garden. Or try the Macrobiotic Garden, Thai Garden or Shabu Shabu Garden, where you will grow the foods used in a nabemono (hot pot) meal.
Well, I've done it again. With best intentions to power down through a half-inch of catalogs in the stack, I have instead just focused on one. But with its combination of history and specialization, I hope you'll agree that it's worth the pixels. Try it for yourself! Order a catalog, or download the PDF version, at www.kitazawaseed.com.