Author's note: This travel article was slated to appear in publication in late 2019, but of course the coronavirus pandemic put an end to almost all travel, and writing (or publishing) travel stories seemed pointless until the pandemic ends. Although it has not ended yet, at the one-year anniversary of this wonderful trip, I wanted to share my story and images of cycling through a magical region of friendly Vietnam. When life finally returns to normal, consider trying it!
By Bill Thorness
Palm trees and rice paddies floated into my mind when a cycling friend invited me to join a small group trip to the Mekong Delta in Vietnam. It would be a warm, sun-drenched, flat and easy pedal to the country's southernmost point during the doldrums of early winter in Seattle.
But my images of that tropical land were sepia toned with war and the brutal heart of darkness captured in Coppola's film "Apocalypse Now," along with reluctantly told stories from an older brother who served in the U.S. Navy in southeast Asia back then. Still, the war ended 45 years ago and Vietnam has been open to Western tourists since 1990. I signed on, hoping that the current generation had moved past the horrors. With 17 hours of plane time and a rented bike, I would find out for myself.
Our exploration began in Ho Chi Minh City, which locals still call Saigon, buzzing with millions of people who perhaps were all on their motorbikes at once. It is a frenetic yet gentle city. We joined throngs in the steamy shopping streets at night, then groups exercising in a park near our hotel at dawn as workers swept leaves and trash into tidy piles. But the million-motorbike challenge was too much for a cycling group, so we bused to nearby Ben Tre to get our bikes.
This custom tour, conceived by European cycling guide friends, would venture far beyond the standard package that typically takes you for a day or two into the country here or around nearby Vinh Long.
Over two weeks we would visit six provinces and pedal into eight regional cities. We would cross all nine branches of the mother river, the Mekong, and explore the sprawling delta that supplies nearly a quarter of the country's food, manna for my gardener's soul.
Sidewalk Roads
On a shakedown cruise, we pedaled a narrow road into the countryside. Banana trees leaned in, flush with fruit, and palm trees umbrellaed shade over the pavement. The lane turned out to be typical of many roads crossing this watery landscape: cracking cement panels comfortable for a motorbike and a cyclist to meet but just wide enough to avoid a scrape from any larger vehicle. Fortunately, these roads host few cars or trucks. Off the main Mekong highway, goods move mostly by boat and people by motorbike. The elders and the children—and the few tourists—pedal.
Ferries get you further, frequently needed as the many-tentacled river fans out to empty into the East Vietnam Sea. They ranged from a platform for six bikes to ones fitting dozens of motorbikes and even a few cars or trucks. The most entertaining held a double-decker farm truck crammed with friendly pink pigs.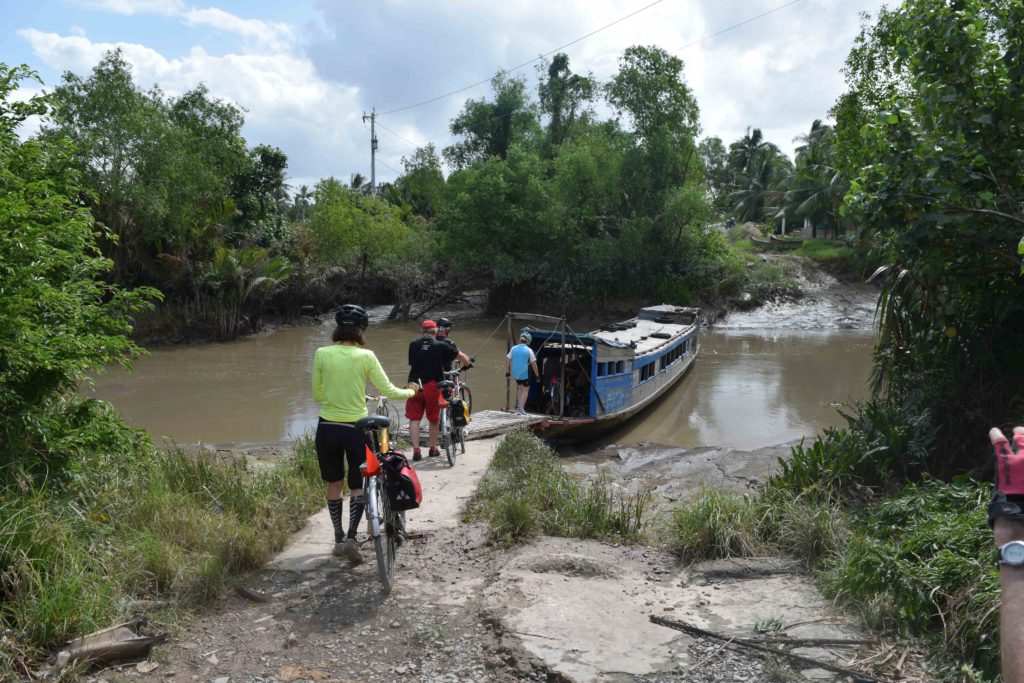 We climbed above the flat land only to cross bridges. Up the stream or canal lay a typical view: dense lines of palm trees tufting into a pale blue sky. The greenery would be interrupted by thatch- or tin-roofed shacks levered to the water's edge, sheltering a narrow, shallow boat. A steady line of homes, many of which were also small businesses, backed up to these waterways. Commerce floated by on cargo boats in fading primary colors, many with circular dragon eyes painted on the prow.
With life so moored to the waterline, such scenes unfortunately also conjured images of disaster from rising water levels due to climate change. Our guide noted a grim sign: coconut production is dropping here, as salt water washing further up the river stunts the palm's productivity.
Hello!
Riding the narrow road, we quickly encountered a joyful common experience: a lilting greeting from the locals to our passing group. "Hello!" was the constant refrain, sung most tunefully by children but no less heartfelt from adults in this friendly nation.
We enthusiastically responded, with the greeting and a V-fingered wave, hundreds of times a day. Often, I couldn't see the greeter, maybe on the deep porch of their narrow home or under a conical hat out in a field. Sometimes children spied us and ran out to the road. I felt at times on parade, but rarely in a tedious way. Our local guide said Vietnam is seeking to be the happiest country on Earth, and this continuous welcome echoed the effort. May they prevail.
Eating through the region
The star of the region's meals is aquatic, but the fish and seafood farmed or caught in the delta are nearly always topping the staple starch: rice or rice noodles. The swampy fields and rich mud from the silty rivers feed vast acres of rice paddies, its grasslike fronds topped with nodding seed heads that turn tawny when ripe.
We would eat rice for three meals a day, in a steaming bowl of pho for breakfast, in a lunch dish with eggs and as a base for a dinner stir-fry, spiced with local peppers. That is, unless we enjoyed a breakfast banh mi, assorted meats, paté and a smattering of veggies stuffed in a baguette.
But along with rice and fish, the area's produce is cornucopic. I will never eat fresher coconut, dragonfruit, pineapple, mango, guava, jackfruit—some of us even braved the stinky durian fruit. The warty green ovals of bitter melon added a citrusy tang in a savory lunch soup.
On frequent cycling breaks we'd sip fresh coconut water straight from the husk. This is best enjoyed reclining in a hammock, plentiful at the covered, open-air cafes along our route. A sweeter alternative was sugar cane juice, freshly squeezed from the canes in a manual press while you wait.
The truly unique drink of Vietnam, though, is the coffee. Vietnam is the world's second largest producer of coffee and their expertise shines even at the most basic roadside stand. A tin sieve is balanced over a short glass or small cup. Coffee is spooned in and a cover lightly set on it. Hot water is splashed in to open the grounds, then the vessel is filled for steeping. What filters through is a nutty, slightly sweet brew, delightful on my tongue.
But locals are not content with the smidge of natural sweetness. Beneath the dripping coffee generally sits a generous layer of sweetened condensed milk, which gets stirred into the brew. On our trip, this was most often served refreshingly over ice. You'd better be pedaling many kilometers a day to afford those rich calories.
From Markets to Pagodas
Our 300-mile, caffeine-fueled loop took us through towns in the heart of the sprawling delta, to Tra Vinh, Tra Cu, Soc Trang, Nga Nam, Can Tho and Sa Dec before reaching Vinh Long, where we again saw Western tourists, on our route back to Ben Tre.
Each city held unique charms, such as the amazing corner at Nga Nam where five waterways converge and boats filled with produce bob next to slender water taxis, operated by a single person standing in the stern plying the water with tall oars.
In many towns we would visit a Buddhist pagoda and respectfully gawk at the grand statues and brightly colored displays.
The floating market at Can Tho abundantly displays the region's resources. Rotund boats pack the broad width of the river near the city's soaring bridge and stretch a mile downstream to ply their wares daily to merchants visiting in their own boats.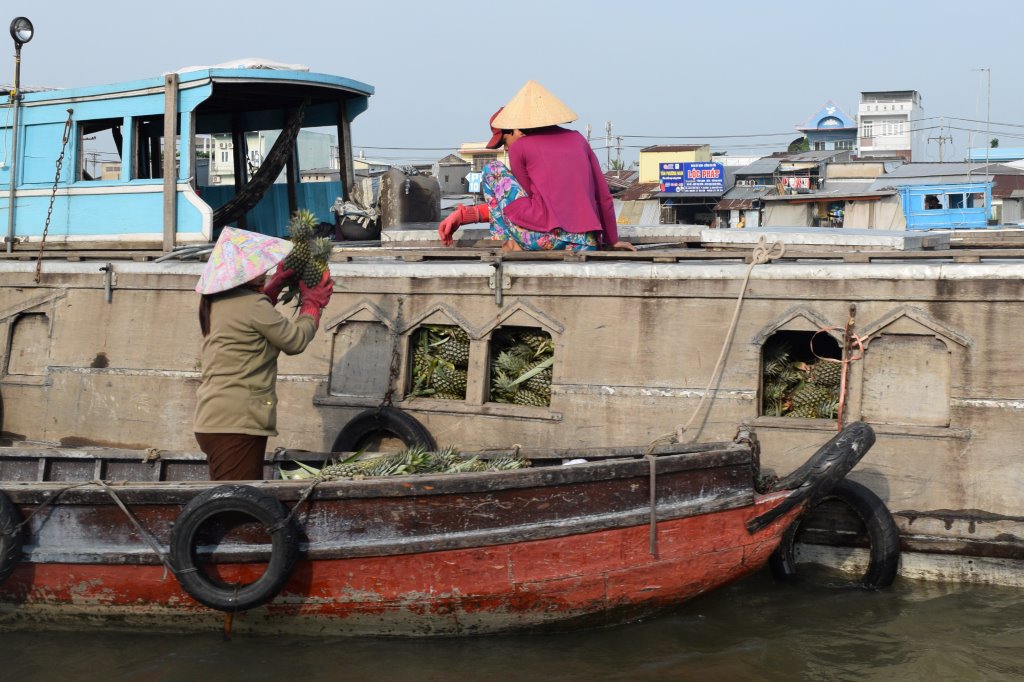 Nearly every delta town we pedaled through had a market lining its central street. Growers sat behind flat reed baskets offering produce. In shallow steel tubs splashed live fish. Ducks, chickens and frogs brooded in cages, legs banded to prevent escape.
Crowded with shoppers, the markets provided an intense burst of life—and a challenge for navigating cyclists. The popular local shopping method involves idling your motorbike through the throngs and weaving right up to a chosen vendor, then placing your order without ever dismounting. Motorbikes sped away laden with plastic bags full of goods hanging off all sides.
Sandal Time
I washed my feet before tumbling into bed at our serviceable small hotels, where we saw no mosquitoes, probably due to ever-present geckos or lizards that lurked behind the air conditioner. On two homestays where we were hosted by rural families, mosquito netting tucked under the mattress edge kept bugs at bay, but the pest count was light in warm November. Between the hot and the rainy seasons, that's a good time to visit. The uber-summer did enable a full trip wearing only sandals, hence the regular foot washing. As it cooled to the 70s at night, sleep came easily.
At our final homestay, on a canal-cut island, romantic music wafted through the palm frond walls of my bungalow. A wedding was happening nearby. It was invisible beyond the koi pond and jungle, but the whole neighborhood was aurally involved. Echoing beats and a mournful flute were just background, of course, to the karaoke.
As the singer warbled into another ballad, I postponed sleep. Images of pleasant pedaling through this happy country floated with the notes. There was no apocalypse, and the darkness was full of heart.
If You Go:
Commercial Tours: Typically 1-4 days with light bicycling and buses, departing from Ho Chi Minh City to Ben Tre and Vinh Long. Seek one with a homestay.
Custom: To design your own trip, inquire with tour operators, or at a hotel in Ben Tre or Vinh Long for a local guide and bicycle rental.
Cost: Vietnam is inexpensive for tourists. In late 2019, 100,000 Vietnamese dong was worth $5. A decent hotel is about $20 a night, meals range from $2 for breakfast to $6 for dinner, and a can of beer or coffee was often just 50 cents.
About the Author:
Bill Thorness is the author of two cycling guidebooks: "Biking Puget Sound" and "Cycling the Pacific Coast," both from Mountaineers Books.